PROJECT ENGINEERING SERVICES

Technical Partners provides full project engineering and project management services for manufacturing operations. These services are based on years of hands-on experience.
In all cases, we believe in up-front engineering to determine requirements before we start spending money. The reason is explained in the chart below.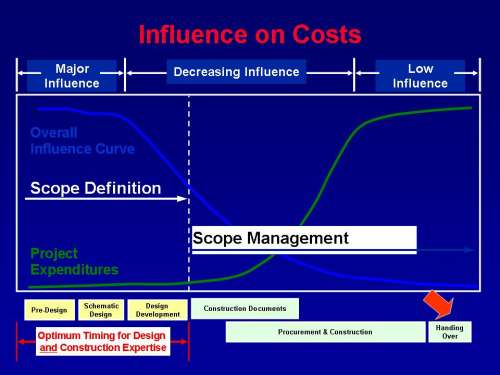 Our procedures involve organizing our information in a similar manner regardless of project size. The thought processes are the same. See chart below.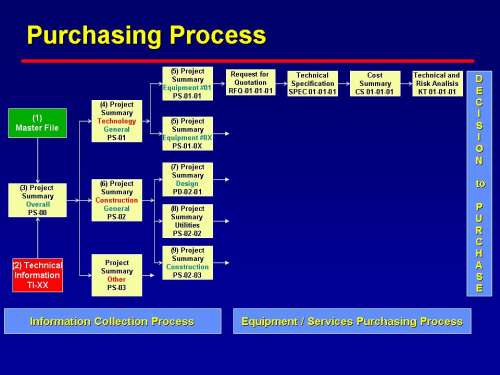 Pre-Design or Planning Stage
Technical Partners can assemble or help assemble any or all of the following documentation.
Project or Plant Master File (MF): The Master File contains all pertinent information about the company and/or the project. Normally the MF applies to the entire organization, so the information required for any one project may only be a small section. This serves as a reference document, mainly for management personnel, but sections of it are used depending on the application or project. It will also be a basis for a Business and Development Plan or a Capital Appropriation Request that must be submitted to financing bodies for funding. Depending on the complexity and nature of the project, the Master File may contain the following headings: Executive Summary, Company Description, Operational Analysis, the Target Market, the Competition, Marketing and Sales Strategy, Operations, Management and Organization, Development and Exit Plans, and Financials. It contains pretty well everything that has to be known about the business, though not at a detailed level.
For companies who have not consolidated their information in one place, we offer an Excel-based "question and answer" format that the Client himself can fill out. This saves a lot of time and will assure that the proper Information is documented. We then help to finalize the document.
Technical Information (TI): Technical Information files document all relevant technical information that can affect the project including Equipment (Existing / Proposed), Facilities (Existing / Proposed), Flow Charts, Drawings, Personnel, Standards, Budget / Project Costs, Time-Line, Environmental Information and Pictures
Pre-Feasibility Study: The Pre-Feasibility Study provides a concept design level analysis of a project and a ball park cost/benefit estimate to determine if the project should be undertaken at all.
Feasibility Study: The Feasibility Study provides additional technical detail and more accurate cost estimates for a specific project. It will be the financial and technical basis of the project.
Capital Appropriation Request (CAR): CAR's are written to provide upper Management with substantiating Information justifying an expenditure. It may include Information from the Master File.
Business and Development Plan: This document is normally required to get funding from a bank or other third party financial institution. It will contain most of the information from the Feasibility Study and may be similar to the Master File but with non-relevant or confidential information removed.
Technological Description: Most projects require a description of the technological process or processes that take place to fully understand the impact on the surroundings.
Environmental Project: Should the project involve work on a new site, it will be necessary to determine the level of contamination of the site. This level will be determined to ensure that contamination issues are properly dealt with and to protect against accusations that the new owner is responsible for contamination. Remediation work may also be necessary. Should the project involve equipment that could affect the environment, an environmental impact assessment must be completed.

Design Stage
Procurement: Our procurement or purchasing process is outlined in the previous chart. This includes:
Request for Quotations which outline equipment or service requirements for budget pricing purposes with the intention of coming to a short-list of 3 or 4 suppliers for major purchases. This is a simple but effective way to get a budget price.
Technical Specifications are our way of protecting our Client's interests by documenting the Client's requirements for a supplier. We do not dictate to a supplier how to achieve an end result since he knows his equipment best, but we are very specific in identifying the end result we require since failure to achieve it will have financial implications. We suggest that our technical specification become part of the purchase agreement.
Cost Analysis & Comparisons provide excellent insight into what various suppliers offer, and whether or not one of them has left out an important item or price. We compare all quotes point by point and often have to go back and clarify quotations and change the specs because of the things we learn from this process.
We use the K-T (Kepner-Tregoe) Technical & Risk Analysis to make objective decisions as to which quotations should be selected by comparing the technical aspects of various offers, then the risks. The process itself is a learning experience and highly recommended when making major purchasing decisions.
Finance Control: Technical Partners have developed and use a unique financial control system which compares quoted prices, to approved amounts, to committed amounts through purchase orders and contracts, to invoiced amounts, to approved amounts, to paid amounts and to a cash flow. The system is simple, but effective and allows for continuous updating and expansion.
Project Implementation
Technical Partners uses Microsoft project for time-line and resource planning.
Our extensive network of specialists allows us to draw resources to handle pretty well any situation that can arise in Project Engineering assignments for a manufacturing plant or commercial facility.
We also support our Clients with our training programs designed specifically for line and technical personnel. This is described in our Operations section.

Back